The Assault class is the most used class in the game and for good reason. They have access to the largest amount of weapons including assault rifles, a few machine guns, the Winchester, and grenades. They are the preferred class for Close Quarters Combat and Urban Ops.
Assault tend to use assault rifles in combat. they can be good for infantry channel
In warrock it has many type and character: Cain, Gina, Jade and Warrior class type it has higher defense
Good in mid-long range combat.
Choose the Assualt weapon wisely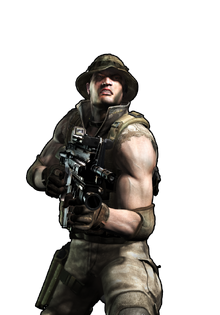 Characters
Edit
Default
Warrior
Gina
Jade
Imari
Francesco
Anatol
Caine
John
Mustapha
Ad blocker interference detected!
Wikia is a free-to-use site that makes money from advertising. We have a modified experience for viewers using ad blockers

Wikia is not accessible if you've made further modifications. Remove the custom ad blocker rule(s) and the page will load as expected.