Engrene is a vehicular warfare map.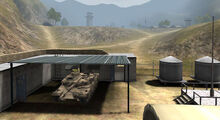 Although lacking in tactical advantage, the Engrene airfields provided the Derbaran with ample training ground for budding A-10 pilots. The Engrene strip is also dotted with vehicle bays containing tanks and anti-air vehicles. More recently, there have been reports that the airstrip hangars contain some evidence of the War Rock project.
Goods and Bad
Edit
Can use all branches to fight
Can Fight on Foot and Air
Few Aircrafts
Large map
Ad blocker interference detected!
Wikia is a free-to-use site that makes money from advertising. We have a modified experience for viewers using ad blockers

Wikia is not accessible if you've made further modifications. Remove the custom ad blocker rule(s) and the page will load as expected.