The Most Popular in time attack in WARROCK. the modes are easy and hard. in easy you can fight until stage 3 but in hard complete the Level before the time ran out.
Synopsis
Edit
In a concentration camp there are 4 Derbaran soldiers were at the NIU POW Camp. the zombies are spreading.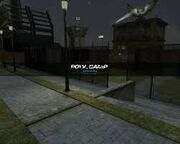 1. Destroy the AI: Use Assualt to defeat the AI in 299 or 499
2. Hack the Controler for assistance: Press F for hacking the controller to proceed the next stage but it was only defended by bombers.
3. Destroy the Gate: At the picture. destroy the gate to advance at the hidden stage.
AT the gate there are a dozens of zombies and the DEFENDER.
4. Defeat the breaker: The Stage was enable for hardcore players. Defeat the Breaker and win the game mode.
Ad blocker interference detected!
Wikia is a free-to-use site that makes money from advertising. We have a modified experience for viewers using ad blockers

Wikia is not accessible if you've made further modifications. Remove the custom ad blocker rule(s) and the page will load as expected.